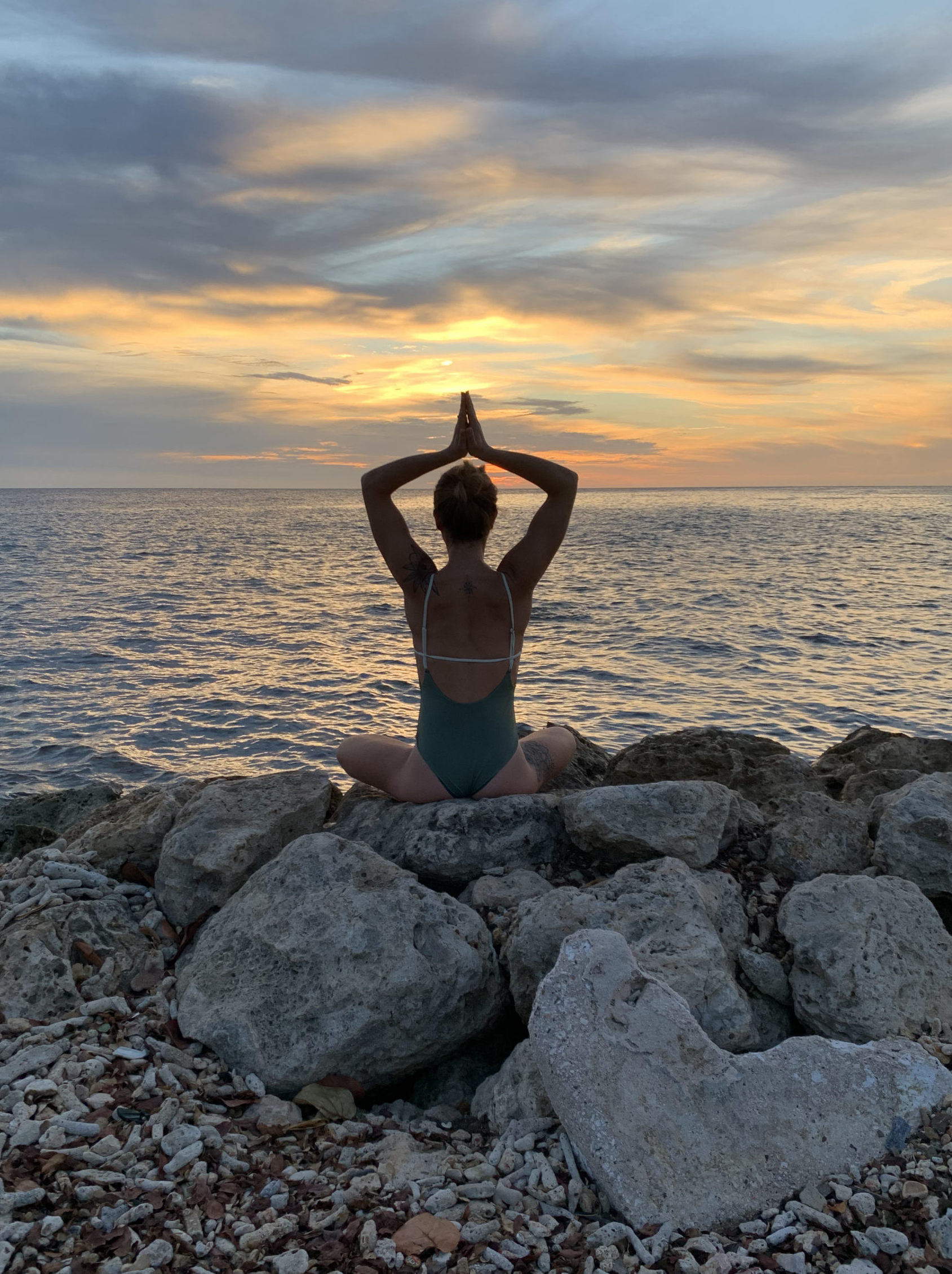 Yoga is not simply about practicing a series of postures/asanas. It's a lifestyle.
Yoga is about reconnecting to your breath and prana/life energy, allowing your mind to concentrate, to reach a meditative state. 
It's about being able to shift your perspective about your Self and the world around you. It's understanding and aiming to reach a state of "being" rather than "doing".
By practicing with YOGAZAZ, you will not only build bodily strength and stamina, and improve your flexibility, mobility, coordination and balance.
You will also learn to exercise and relax the mind. 
More importantly, YOGAZAZ's teaching method is about giving you the tools to help you focus, to better manage stress and anxiety, and to feel more confident in order to develop a deeper and more harmonious connection between your body, mind and ultimately with your Self. 
According to YOGAZAZ's philosophy and approach, Yoga should be accessible for EVERYone, no matter your body, age, identity, life and socio-economic situation.
For this reason, we offer private and group classes in Brussels and teach different styles of yoga – Vinyasa, Yin, Hatha, Yin Yang, Restorative, Pre/postnatal and Menopause Yoga – to meet each person's needs. We also cater private companies who want regular or ad hoc yoga classes and workshops.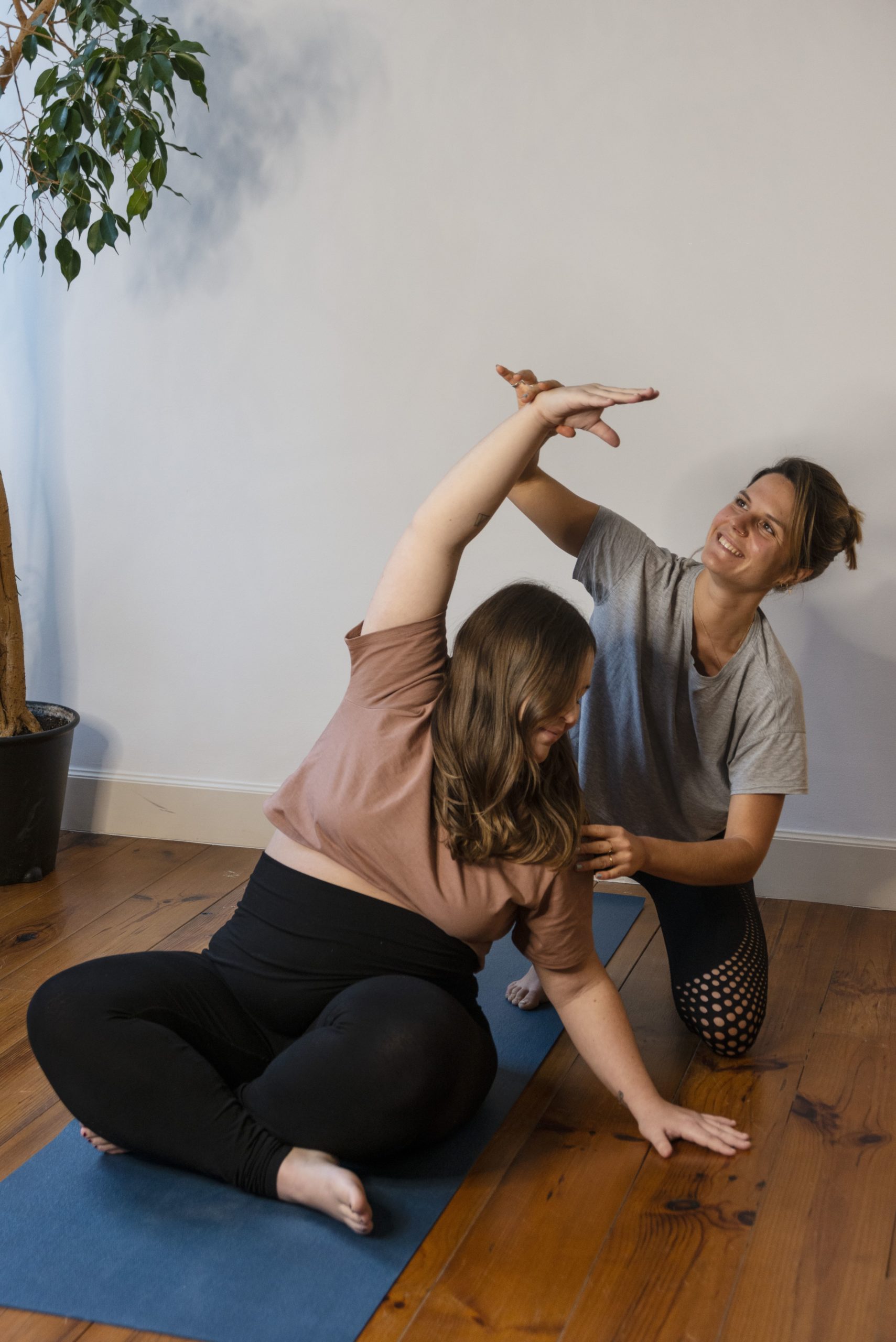 Elsa is the founder of YOGAZAZ teaching method and yoga retreats. 
Elsa discovered the practice of yoga as a student in 2011, during an internship in Ethiopia. She immediately loved this practice that allowed her to connect with her body, to move and breath consciously. However, she discovered what "Yoga" really means during her first 200-hour Vinyasa Yoga Teacher Training in 2019. This training not only deepened her knowledge about Yoga's philosophy and benefits on the body and the mind, but it changed her perspective on the world and the Self. 
Meditating and practicing yoga has helped Elsa to overcome several traumas and transitions in her life. This is why teaching Yoga is a passion, because it allows her to connect with other humans and share with them what she has learnt, in the hope of helping others to overcome personal issues, difficult transitions, and develop a more harmonious relationship with their body and mind.
Yoga is also a means for Elsa to connect with other women and honour the power of womanhood and Yin energy that is all around and within us.  Through the completion of a Teacher Training in  pre/postnatal Yoga in 2021 and in Menopause Yoga in 2023 with its founder Petra Coveney, Elsa sees and uses Yoga as a medium to accompany other women through the different transitional moments of their lives – amongst which pregnancy, post-partum, and menopause – so that they can continue to flow through life with serenity, self-love and awareness. 
Thanks to the various trainings she did, including one in Restorative Yoga completed in 2023, and her expertise in teaching various levels of yoga practitioners as well as age groups, Elsa guides each student to work with their body, rather than against it. She acknowledges that every body is different and unique, and so she will encourage each student to explore, celebrate and focus on his/her own yoga practice, in order to feel more at peace with him/herself.
"Elsa is a great Yoga teacher. Her energy is really motivating, and her flows are really innovative for both beginner and advanced students. She can teach in French and English."
"Elsa is gentle and a good teacher. Her classes offer a real moment of relaxation and reconnection with one's body and mind. Don't be fooled though, she can push you out of your comfort zone, but for your own good and with utmost care."
" Elsa is always welcoming of anyone's requests or questions, with an open heart and mind and lots of compassion and patience for differing levels and needs. The length of her classes are adequate, with a good warm up, flow and time for savasana. I love that she suggests different degrees of intensity for the postures, which gives me the opportunity to push myself as far as my body and mind would allow me during a particular class. A big plus is that her classes are given in French and English, also offering further explanations regarding different postures whenever asked. I highly recommend Elsa's classes for both beginner and advanced yogis!"
"Elsa's a great teacher. She took her time to explain to me the different postures, their benefits and correct alignment as I'm a beginner. I felt so relaxed afterwards! I highly recommend following her classes."
"The most caring, attentive yoga teacher who always takes into account your specific needs. Every yoga class is the best gift to your body and to your soul."
If you have any queries or you if would like to collaborate on a project (workshop, retreat, product development), please fill in the form 
or contact me directly on info@yogazaz.com / +32 485 74 64 77